Prospect Hall Casino
Located in:
United Kingdom, Canada, Australia, Germany, Denmark, Norway, Sweden, Netherlands
User Rating:

Our Rating:
*Only registered users can rate a casino.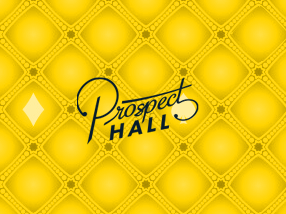 https://prospecthallcasino.com/ has been an up and running UK based online casino sense 2010 and is a fully licensed online gambling operator. Users from UK, Canada, and Australia are able to enjoy the many games and VIP treatment Prospect hall has to offer. Along with offering safety by implementing cool down periods and deposit limits. Prospect hall casino makes annual donations to the responsible gambling trust, a leading charity in the UK in hopes of reducing gambling related harm. Users also have multiple payment options including PayPal, MasterCard, and visa. A wonderful customer service team is available to email, unfortunately no online chat has been open yet but a thorough FAQ is available.

Promotions such at tippy top Tuesday's offer 50% reload bonus up to £50. Weekends users get to celebrate 10% cash back with up to £100. Creating an account comes with a sign up bonus of £300, 100 free spins and a warm welcome. Prospect hall is very active with offering new promotions giving away free spins, cash drops and slot tournaments and many more. All games can be played on computer desk top or phone, even coming with a convenient iOS app.
£100 Free Deposit, £10 Free Bonus, and 50 Free Spins
Creating an account is absolutely free, must be 18 or older to play. With new and classic games available, the possibilities are endless. Play one of the seven types of slot games, try your luck at a game of roulette or black jack. The casino has over 350 game titles and exclusive iOS games. Play keno or bingo fun times are to be had with suppliers from Microgaming, NET Entertainment, Playscrean, and Cerebral fix. All games have been tested with random number generator to ensure all games are fair and have been certified by a third party. Prospect casino offers many different type of tournaments, though most are with slots.

Most of the games come with a demo so you can check out without having to make a deposit or to help you decide if making a profile is right. Prospect hall is a respectable casino with the upmost concern about the customers in terms of safety. Their belief is that gambling should be fun. Taking the best safety precautions to ensure user information is safe and granting users to, choose their own cut offs, cool down times and deposit limits. Betable has a support staff for those who become concerned with their gambling levels and a self-exclusion tool that will exclude players for a minimum of six months. There are also recommended Child block programs so little ones don't get into gamers accounts with the help of net nanny, Gamblock and many more.

There are so many was to have fun so come join prospect hall casino and play with people who are concert with safty first and winning big. Last jackpot was for £1000 for slots, ended September 2nd.

No charge for signing up with Welcome bonus £300 with 100 free spins

Affiliated with betable
Playable in the UK: yes
Playable in Canada: yes
Playable in Australia: yes
Support email: support@betable.com

Play NOW