S Casino
Located in:
Canada, United Kingdom, Denmark, Germany, Norway, Netherlands, Sweden
User Rating:

Our Rating:
*Only registered users can rate a casino.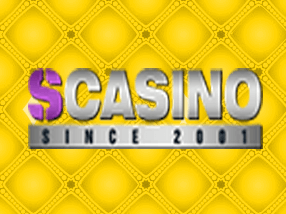 S Casino is an online casino that was established in 2001 and was also formerly known as the Swiss Casino. Over the years, it has grown in popularity and stapled its pride in being a reputable site. With a little over 14 years' experience and loyal customers to boast, SCasino gameplay has become a force to reckon with. Bwin owns the casino. Party Digital Entertainment Plc and is managed by one of the more reputable management organizations in online gaming field today GGN- the Global Gaming Net. The government of Gibraltar and the Gibraltar Gambling Commissioner have regulated and licensed the casino fully.

S casino is popular among a variety of players from the high and low rollers to the regular players. This is because the site offers a consistency in high-quality gaming, excellent customer service and the best promotions online gaming has to offer; which can all be enjoyed in the very comfort of an individuals' home. The casino aims to provide the highest standards in online gaming and above all else tend to the customer experience by offering exceptional customer care services.
Claim up to £100 on Each of Your First Four Deposits

The casino launched its mobile casino gameplay in 2008 with the goal to create and immerse users deeper into its arena and improve user experience by making a portable version of the popularly acclaimed internet Las Vegas casino. Now, you can play on the move and entertain oneself with the endless games and offers available. The mobile casino has compatibility with most phones today from the Android operating systems to the iPhones' iOS. The mobile version is owned by iGlobalMedia Entertainment Limited and still managed by the Global Gaming Net.

Upon signing up for a SCasino account, the newbie gamer will be in line to receive an incredible bonus package that proposes to match his/ her initial deposit by a 100%. If the player collects 250 euros as their initial deposit, the casino will match up with another 250 euros totaling their amount to 500 euros. After, one has completed all the three welcome offer steps the individual will be eligible to win 555 euros!
If a player chooses to use the mobile site instead of the internet, download and registration is easy. All you have to do is select download after which they'll be quickly asked to install and run the casino, then you'll be prompted to fill in your sign up details that naturally include the player's personal details such as; email address and credit card/ bank details information.

S Casinos' bonuses and offerings go beyond the welcome bonus; there are other options where users can receive up to 15% extra or more when you make an installment using the casinos advised and preferred payment methods. On top of that there is an -invite your friends- promotion which requires you to provide the casino with their email addresses and upon any of the signing up and placing their deposit, you receive 25 extra credits. In addition to these there are monthly promotions, generous bonuses and cash prizes to be won. The casino has made it super easy to keep up with all the hype and promotions by providing a calendar that lists all the available promos and cash prizes to be won in the site.

The S Casino has slotted a way to reward its loyal players. Loyal players receive loyalty awards monthly and sometimes on a regular basis which means you get quite a bit of free fun with available games and the more you play, the more you get rewarded, it's like a never-ending cycle of the game and rewards.

Players in the UK, Australia, and Canada will be happy to know that, they have all the Casino's Jackpot games and rewards waiting at their disposal. With over 80 online games, some of which are live dealer versions to the usual peoples favorite Playtech ranging from slots and progressives, video poker to even more attractive table and card games.

The slot games are very fun especially the video slot games such as Tropic Reels and Fruit Mania, which are very entertaining and can be a little bit of a challenge. Queen of the Pyramids and Gold rally are amazing by their rites and are as equally challenging depending on one's level of skill. Blackjack Switch is a cool card game to play where you can exchange your second card between two hands. The blackjack, baccarat and roulette all have lived versions but for a beginner it's always best to begin with machine trials. The video poker machines are fantastic the graphics and swift play will have players wagering for more and more but not to worry the amounts required for each game are on the lower end that allows for more gameplay.

Australia, Canada, and UK players, now that you've heard the talk visit the website today at http://www.scasino.com/ to see and experience more of the walk. With an outstanding 555 euros welcome offer, there is not a reason to. For more information, contact us at support@casinolasvegas.com or +442033645395

Play NOW