Sky Vegas
Located in:
United Kingdom, Norway, Germany, Netherlands, Denmark, Sweden
User Rating:

Our Rating:
*Only registered users can rate a casino.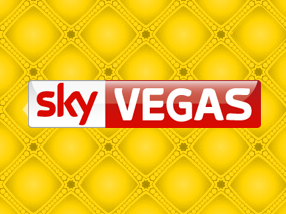 Sky Vegas (https://www.skyvegas.com/) has all of the greatest games located in one place. This includes a wide selection of over 130 games ranging from Roulette and Blackjack to Deal or No Deal and even Chain Reactors.

Customers who are based in the United Kingdom, the Sky Vegas is regulated and licensed by the UK Gambling Commission, held by license number 38718, incorporated in Alderney. For all other customers, Sky Vegas is regulated by the Alderney Gambling Control Commission.

Bonne Terre Limited carries out areas such as virtual racing, casino games, sports betting and poker.

Additionally Bonne Terre Limited is owned by the private equity group, CVC Capital Partners, who controls the funds.

Sky Vegas has been structured so that a free online account needs to be set up and registration takes place with the use of a debit, credit card or with an e-wallet or an eWallet. Afterwards, deposits and withdrawals can be made from the customer's account as needed.

£10 Completely Free at Registration and Additional Bonuses up to £1000

PROMOTIONS AND BONUSES
Sky Vegas has numerous bonuses. Including a £10 welcome bonus that is completely free. It will be credited to customer's account right after registration takes place.

In order for the £1000 deposit bonus to be claimed, customers will need to opt in to whatever applicable promotion is taking place and make their first deposit. Afterward, a 200% bonus of the first deposit that has been made will be provided in an amount not to exceed £1000. However, please bear in mind that customers will not be able to spend their £10 free bonus or their deposit bonus on specific games across Sky Vegas. (A list of all excluded games are available.)

For those who consider themselves a High Roller, and have beaten the rest… now you have the opportunity to be the best. Those who have developed the skill and have learned that playing is this game is an art, can shoot to be the master of them all. You'll have the opportunity to take your large weekly bonuses and make it work on your behalf. Birthday bonuses are also available as well.


LOYALTY / VIP PROGRAMS

Sky Vegas also has loyalty and VIP programs. They consist of the Playas Loyalty Club, the Hi Roller, the VIP, the Big Shot and the MVP. The Playas Loyalty Club comprised of Be a Mover & Shaker. This involves players hoarding their Playa Loyalty points and holding on to them for just past 12 months to remain at the current state, or moving on to bigger rewards. The HI Roller, involves those who aim to be a master, beating all those who have stepped up to the challenge.
The VIP involves players with the status associated with being a top dog and whose game just allows them to continue to keep their sights set higher. The Big Shot involves players who are in the lead who can take advantage of their new anniversary and welcoming bonuses. This bonus also has an invitation to exclusively LARGE tournaments to carry on to the TOP. Lastly the MVP loyalty VIP program involves those who are considered the Big Cheese and the Most Valued Playa.

GAMES

Sky Vegas has a wide array of different online casino games. Including table games, slot machines and video poker. Most of them also has a live dealer option.

The table games (including roulette) consist of a variety of options, such as 3 Card Brag, Video Poker, Pontoon, Joker's Wild and Baccarat. Each of them also has high withdrawal and high table limit and great customer service. Other table games consist of the Deuces Wild, Ten Hand Jacks or Better and more.

The slot machines include games such as Black Jack, Baccarat, AllSports, Astro, Chuzzle Slots and a wide variety of other slot games.

The casinos that offer Microgaming software that can be downloaded will provide the largest choices of games. Including the 32Red.

Overall, the products offered and the good customer service is what makes Sky Vegas the casino of choice for many gamblers.

Welcome Bonus Amount: £10 (valid for only 30 days from the registration date)
Affiliate Company: Sky Bet, Sky Poker, Sky Bingo and Sky Casino
Support Types: Technical Support via Mobile App
Software Developer(s): Powered by Virtue Fusion, developed by Sun Microsystems
Jackpots Available: Yes
Playable in the UK: Yes or No - Yes
Playable in Australia: Yes or No - Yes
Playable in the Canada: Yes or No - Yes
International Phone Number: +44 (0) 113 8876449
Support Email: Various based on support need

Play NOW