Strike It Lucky
Located in:
Canada, Germany, Denmark, Sweden, Norway, Netherlands, United Kingdom
User Rating:

Our Rating:
*Only registered users can rate a casino.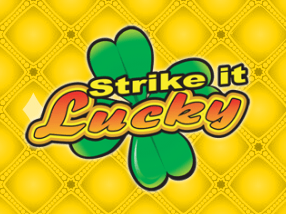 Strike It Lucky Casino has been around since June 2000, it is playable in the U.K. They are certified with eCOGRA (e-Commerce and Online Gaming Regulation and Assurance) who has very strict regulations about operations, fairness, and responsibility. This is strictly enforced while the interests and needs of the players are also taken into consideration. Strike It Lucky is also part of Casino Rewards, which has over 30 member casinos making them the largest casino group on the Internet.

Promotions and Bonuses

Strike It Lucky's main affiliate company is Rewards Affiliates. New players are invited to join the Rewards Affiliates' program and receive up to 50% commission for about the first month or so. Top affiliates have been known to earn over $50,000 and you'll win their loyalty big-time if you refer several friends and/or family members. They say that it's almost like running your own casino.
$20 Free on Your First $40 Deposit

Strike It Lucky's VIP program works by building up from the points that you glean not only from playing with them but also with other casinos who are partnered with them. In chips, 100 points are worth $1 in U.S. dollars. The more you play, the more points you'll build and the rewards you receive are aligned with this. The monthly promotions can also help you bulk up your points. Unlike with most other casinos, with Strike It Lucky, you earn the promotions as you go rather than them being available to every player 24/7 during the month.

Games

Strike It Lucky has numerous games from Blackjack to Video Poker to the Slots. The Single Deck Blackjack GOLD is in the top percentage of return to player at 99.69%.

Just to give a little explanation of the definition of RTP (or Return to Player) is the percentage calculated by which players win. The higher the percentage, the higher the chance the player has at winning. In very rare instances when it's at 100%, that means that the player has the exact same chances of winning as the house. However, if it happens to climb at above 100%, that means that the house is losing more than its players.

Strike It Lucky has Roulette, which is the one in which you spin the wheel and whether you win or not depends on where the white ball lands. French Roulette currently has the highest RTP at 98.65%. Their Video Poker can be played at the speed that you personally desire. All Aces has the highest RTP at 99.92%. They have over 500 slots to choose from and you can choose your own theme. Couch Potato currently has the highest RTP at 97.43%. Strike It Lucky also offers a wide variety of other games including Bingo, Card Climber and Wheel of Riches. Baccarat currently holds the highest RTP at 98.99%.

Software Support

Strike It Lucky's software is Microgaming. It is known as the first and topmost leader in being a gaming provider. The key to them being in the lead is believed to be due to the fact that they launched the first true casino online gaming before the turn of the century as early as 1994. They were also one of the first to dive into supporting Internet gaming during the domesticized Internet boom during the turn of the century. To this day, they hire only the most flexible, innovative and motivated team members.

Welcome Bonus Amount: Free bonus of $20 with the first deposit of $40
Affiliate Company: Rewards Affiliates
Support Types: toll free phone numbers, e-mail and live chat
Software Developer(s): Microgaming
Jackpots Available:
Playable in the U.K.: Yes
Playable in Australia: No
Playable in Canada: No
International Phone Number: 1-888-942-7466
Support e-mail: support@strikeitluckycasino.com

http://www.strikeitluckycasino.co.uk/

Play NOW